Viega press systems: Versatile options for a wide range of applications.

With a variety of different press systems made from a range of materials, Viega offers impressive solutions – in everything from drinking water, gas and heating to other applications in buildings, industrial units or ships. All systems guarantee maximum safety, comply with the applicable country-specific standards and are connected in quality – without compromise. For quality press fitting solutions, choose Viega. 
Connected in quality
Anyone who chooses press connection technology from Viega is choosing the very best quality. There is a reason why Viega is one of the world's market leaders in metal press fitting systems. This has been made possible through in-house production, painstaking quality assurance and the company's self-defined goal of continuous development. Whether you are connecting steel, gas or water pipes Viega's press technology assures quality throughout.
Easy to fit – reliable in use
Press technology offers clear advantages. Aspects such as fire risk, laborious fire protection precautions and the unsightly traces of fire and soldering are now things of the past. Press connection technology is not only much easier to use, but also highly reliable because of the cylindrical pipe guide and Viega's tried-and-tested SC-Contur. This means that additional qualifications in areas such as welding are no longer required. Press connection technology can be readily used by any specialist tradesperson.
Quick and economical
Thanks to its quick processing capability, cold-press technology is far superior to other methods, including in terms of installation time. Depending on the system involved, tremendous time savings of up to 80 % are possible. In practical terms, this means work can be performed highly efficiently and more projects can be handled in the same period. In short, this technology brings huge benefits to every installation.
Convenient and easy to use
With its Viega Pressguns, Viega offers a press tool that combines convenience and safety. The flexible and space-saving press rings with hinged adapter jaw enable work to be conducted conveniently and quickly, even in narrow pipe shafts. The matching press rings make it possible for just a single specialist tradesperson to perform complex installations in dimensions of up to 108 mm in no time at all.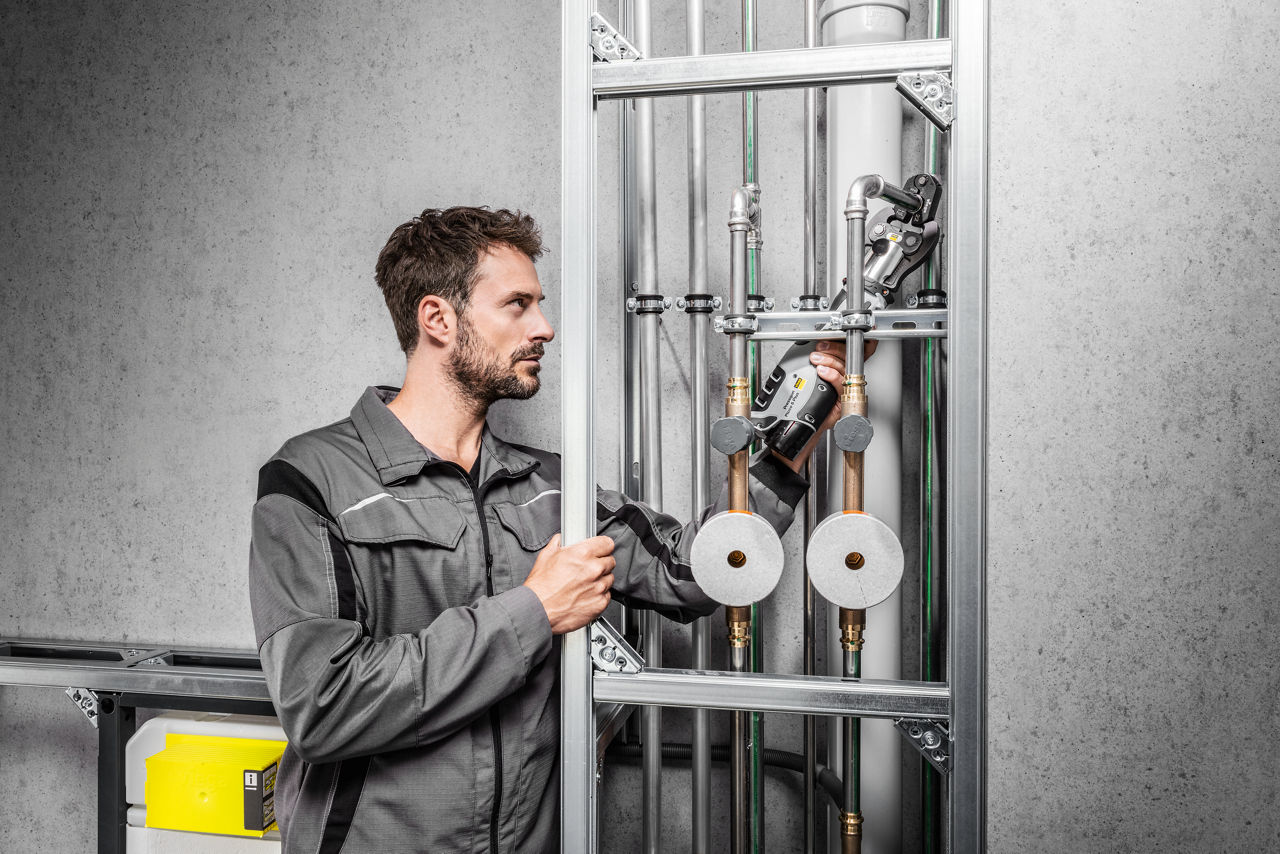 There is no need for costly and timeconsuming preliminary and follow-up operations such as drying the pipes or removing traces of fire and solder. And the system even enables difficult- to-access locations to be worked, without leaving any traces.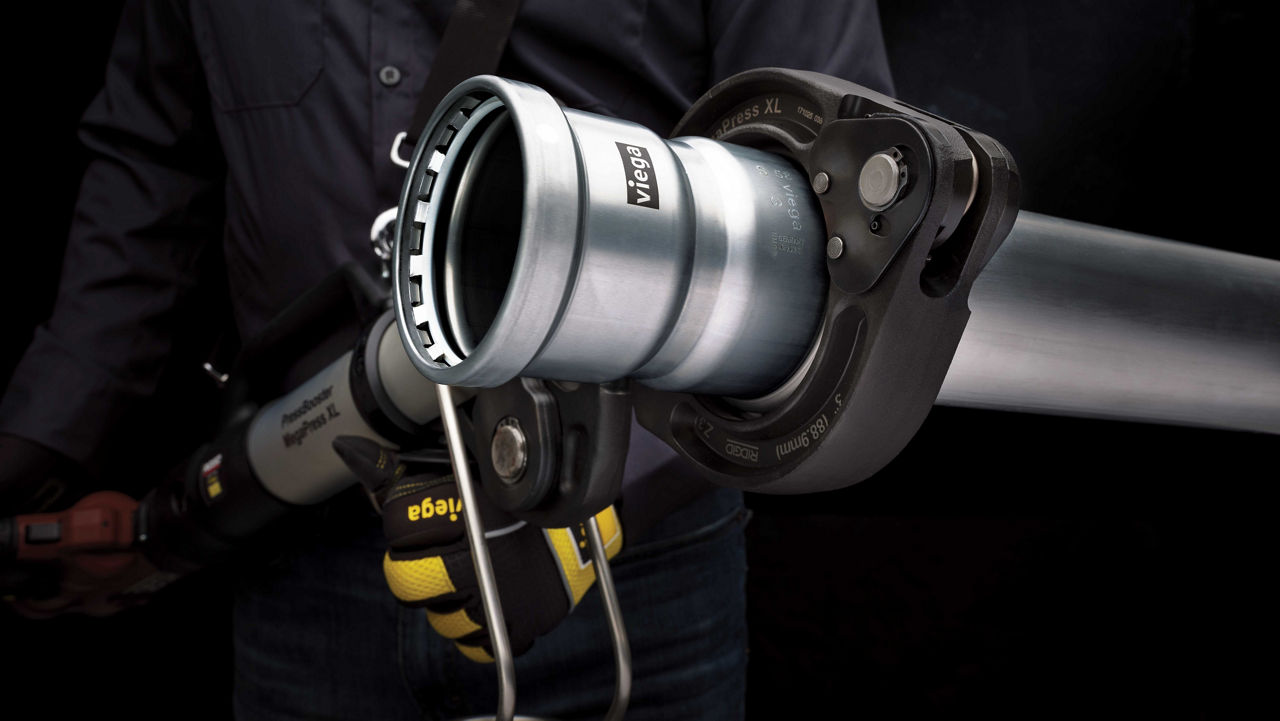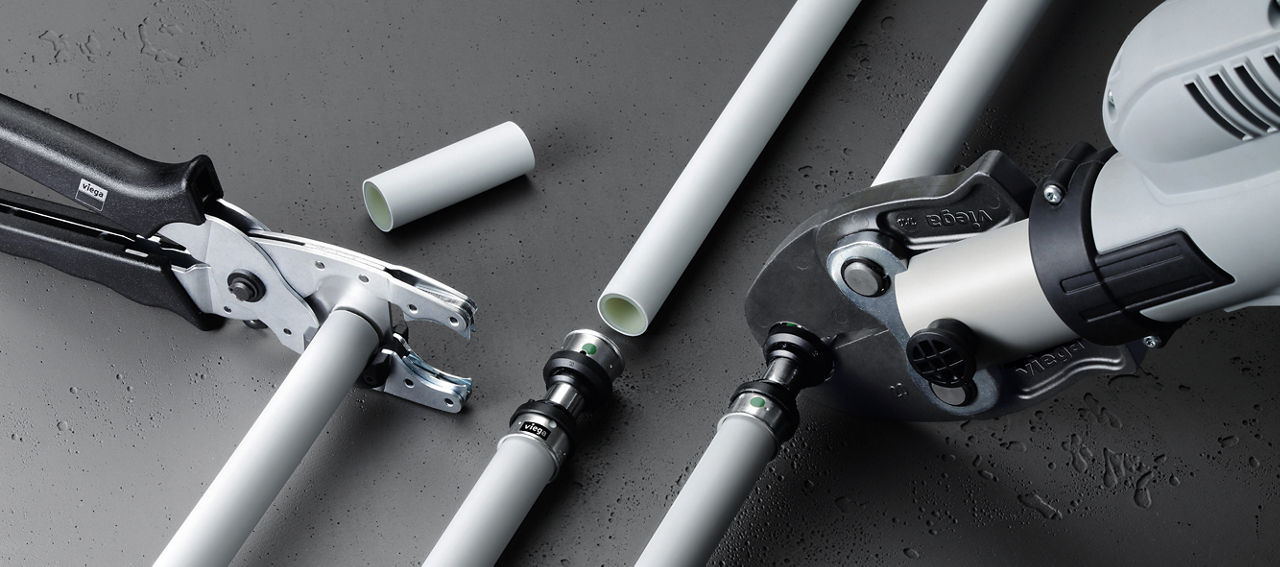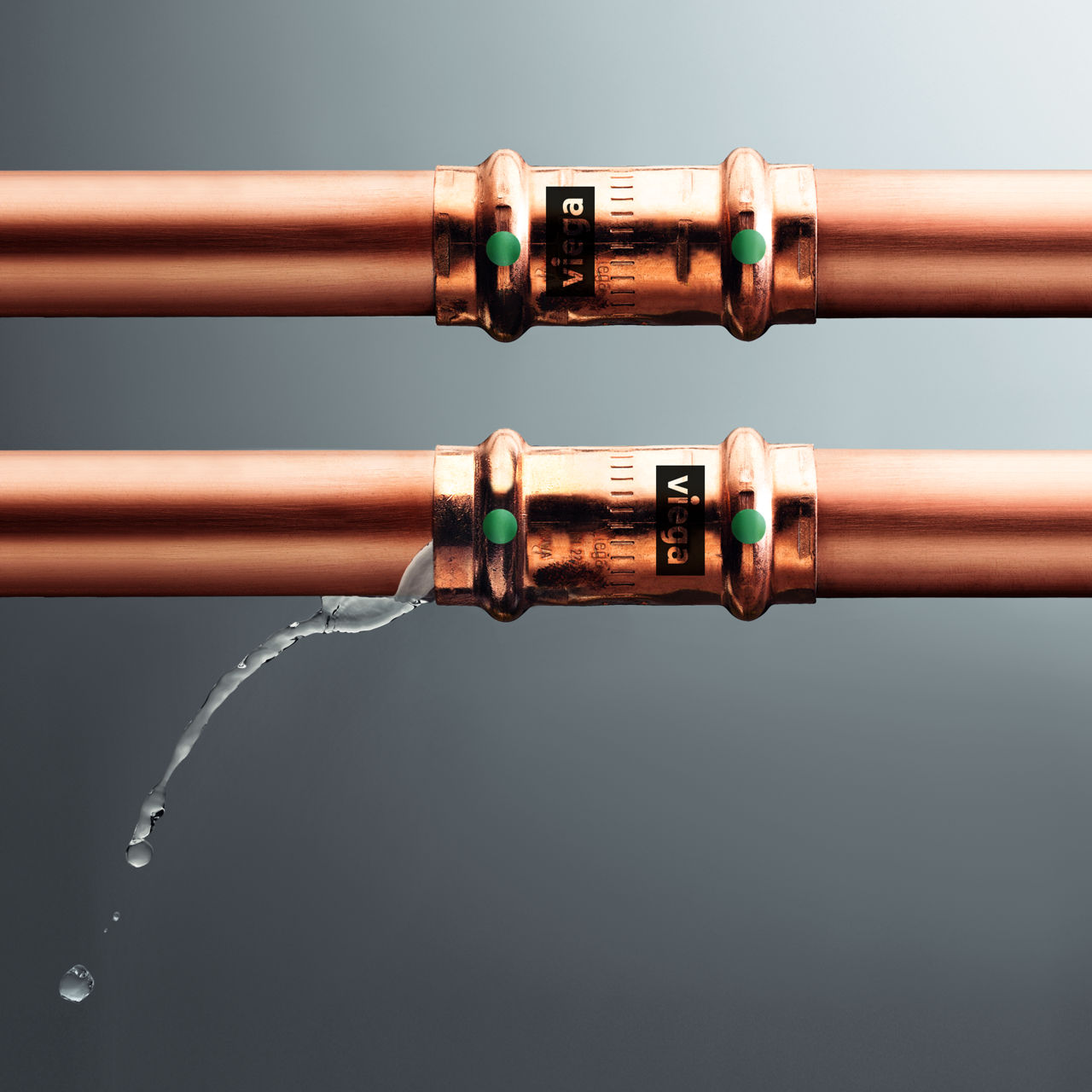 All Viega press connectors offer a unique safety feature: the Viega SC-Contur. It ensures that unpressed connections are visibly indicated as leaky. It works both with compressed air and with water.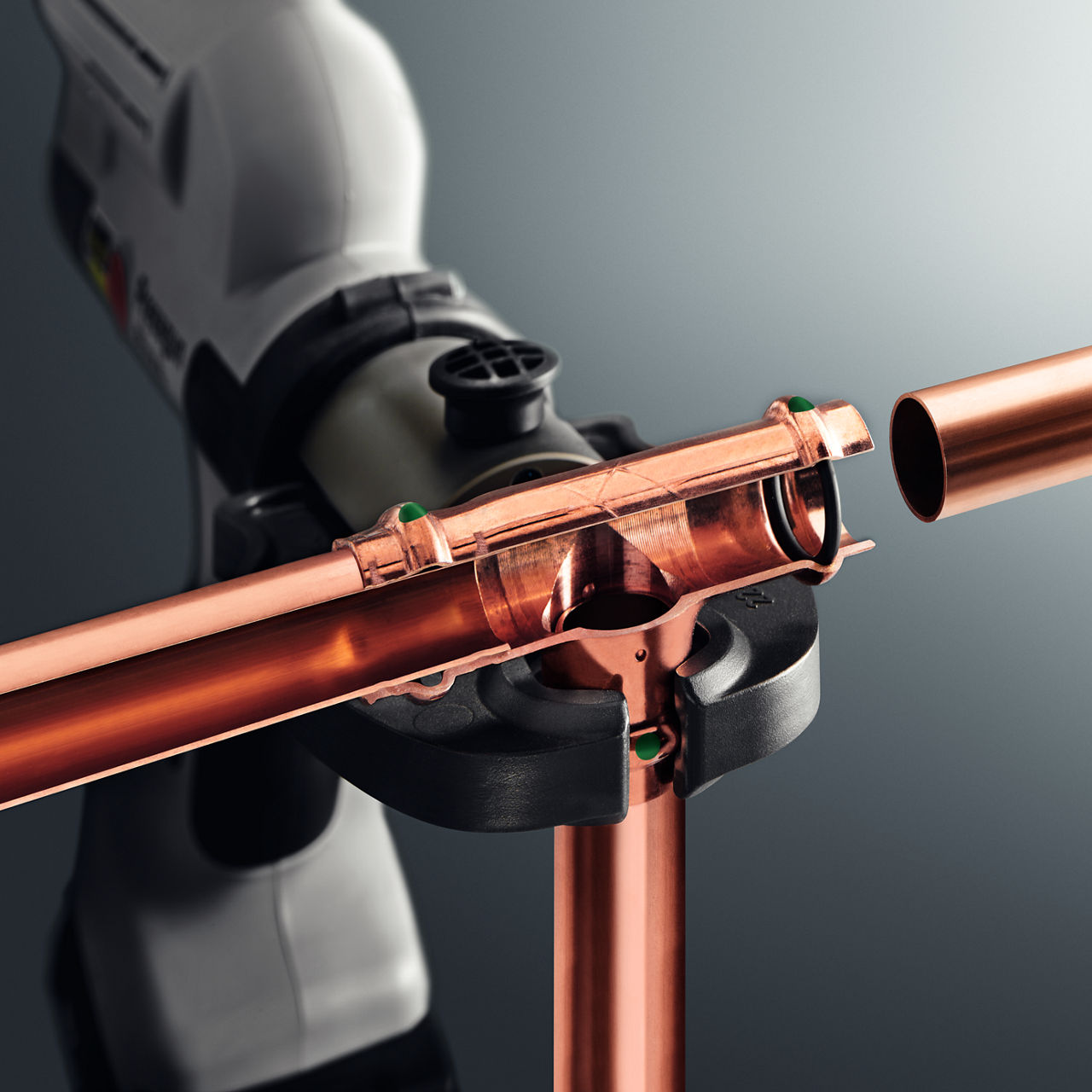 Pressing is faster than conventional soldering. It requires just three steps: After cutting the pipe to length, the press connector is installed and the insertion depth is verified. Then the press tool is put into operation – positioned, activated, done.
For more information also see the following download! 
Press connectors are both quicker and safer: processing requires less time, and the SC-Contur from Viega shows up any forgotten pressings at the first filling of the unit or during a leakage test, for example, with water.
A clear advantage in terms of safety
Due to tight production tolerances, the pipe and connector appear to be "sealed" even before they have been pressed. Connections can be loosened by pressure surges whilst the unit is in operation; uncontrolled water can quickly cause a considerable amount of damage. Even at very low flowing pressure, water will leak out of the SC-Contur of a connector, which has not been pressed properly. This prevents expensive subsequent damage
Simpler repairs
The practical processing advantages of press connection technology are equally important, both in new installations as well as in any repair work being carried out on existing systems. Depending on the nominal width, a press connection is completed up to 40% faster than a soldered connection. Another reason is that in addition to the faster pressing process, press connection technology does not have all the time-consuming peripheral jobs such as deburring and calibrating.
When repairing drinking water systems, systems do not need to be fully drained beforehand. Whereas residue dampness makes soldering or nearly welding impossible, pressing is possible even when there is still residual water in the system.
For copper, steel and stable composite pipes
Viega offers the quick and safe press connection technology for all piping systems in all common areas of use. Metallic piping systems like Profipress (copper), Sanpress Inox (stainless steel) or Megapress ( steel pipe) are all included as is Viega Smartpress as a multilayer composite pipe.
Depending on the material and area of use (e.g. drinking water, heating, gas, compressed air, fire extinguisher pipes), Viega offers suitable press connectors with the corresponding sealing elements. To prevent confusion of these press connectors, they have all been marked with coloured dots. For example, green points are exclusively for drinking water, yellow for gas installations and red for heating installations.
 
Learn more about SC-Contur

We need your consent to load the $$service$$ service.
Because we value your privacy, we hereby request your permission to use the following services. You can revoke your consent at any time. To do so, use the link to the "Cookie Settings" at the bottom of the page.