Viega Smartpress: Advanced multilayer piping system
Viega Smartpress is an innovative piping system comprising multilayer PE-Xc polymer pipes and the highest quality stainless steel and silicon bronze press connectors, to provide unrivalled flow optimisation, installation speed and drinking water quality.

With minimal bore reduction and o-ring-free supports, the connectors are designed to minimise pressure drops and do not require calibration. Furthermore, they are equipped with the SC-Contur safety device which detects unpressed connections. 

Engineered for minimal pressure loss
All Viega Smartpress connectors – in dimensions from 16 to 63 mm – have an uninterrupted optimum flow rate. Viega Smartpress is different to other manufacturer's systems as it does not have large reductions of cross-sectional areas caused by support bodies with integrated O-rings and sharp separation edges in the internal geometry.  This enables installation to be optimised during the planning procedure, while also saving hard cash through lower material requirement, because of the smaller dimensions involved. Leaner dimensioning can also help to guarantee shorter output times and greater reserves to cope with consumption peaks.


We need your consent to load the $$service$$ service.
Because we value your privacy, we hereby request your permission to use the following services. You can revoke your consent at any time. To do so, use the link to the "Cookie Settings" at the bottom of the page.
The multilayer pipe revolution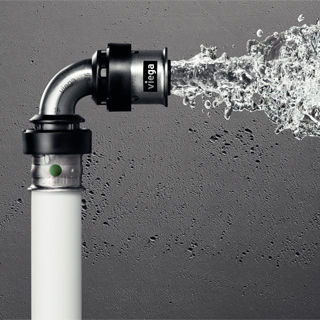 Viega Smartpress not only offers the highest quality, but at the same time combines the advantages of a metal pipe system with those of a multilayer system – for the best possible hydraulic characteristics and fast, safe and convenient installation. . For a reliable, flexible pipe, suitable for a range of applications, including, central heating and water installations, you can rely on Viega Smartpress.