Viega Smartpress for quick and secure installations
Viega Smartpress represents a real revolution in plumbing installations. Viega Smartpress connectors embody know-how gained over many years, proven technology and high-quality, corrosion-resistant and long-lasting materials. The result is an innovative piping system which, thanks to the combination of faster installation and optimised pressure drops, allows for the rapid creation of complex systems, where the priority is represented by efficiency and safeguarding the quality of drinking water.
"Calibration is no longer necessary: just cut, insert and press."
Viega Smartpress: Fast and safe installation even without O-rings
All Viega Smartpress fittings between 16 and 63 mm in size are O-ring free. A clear advantage when installing polymer pipes. This makes the calibration of the pipes unnecessary and the installation faster and safer. All Viega Smartpress fittings are equipped with the DWGW-certified safety device SC-Contur, which makes inadvertently not pressed fittings immediately and reliably identifable even in the case of dry testing.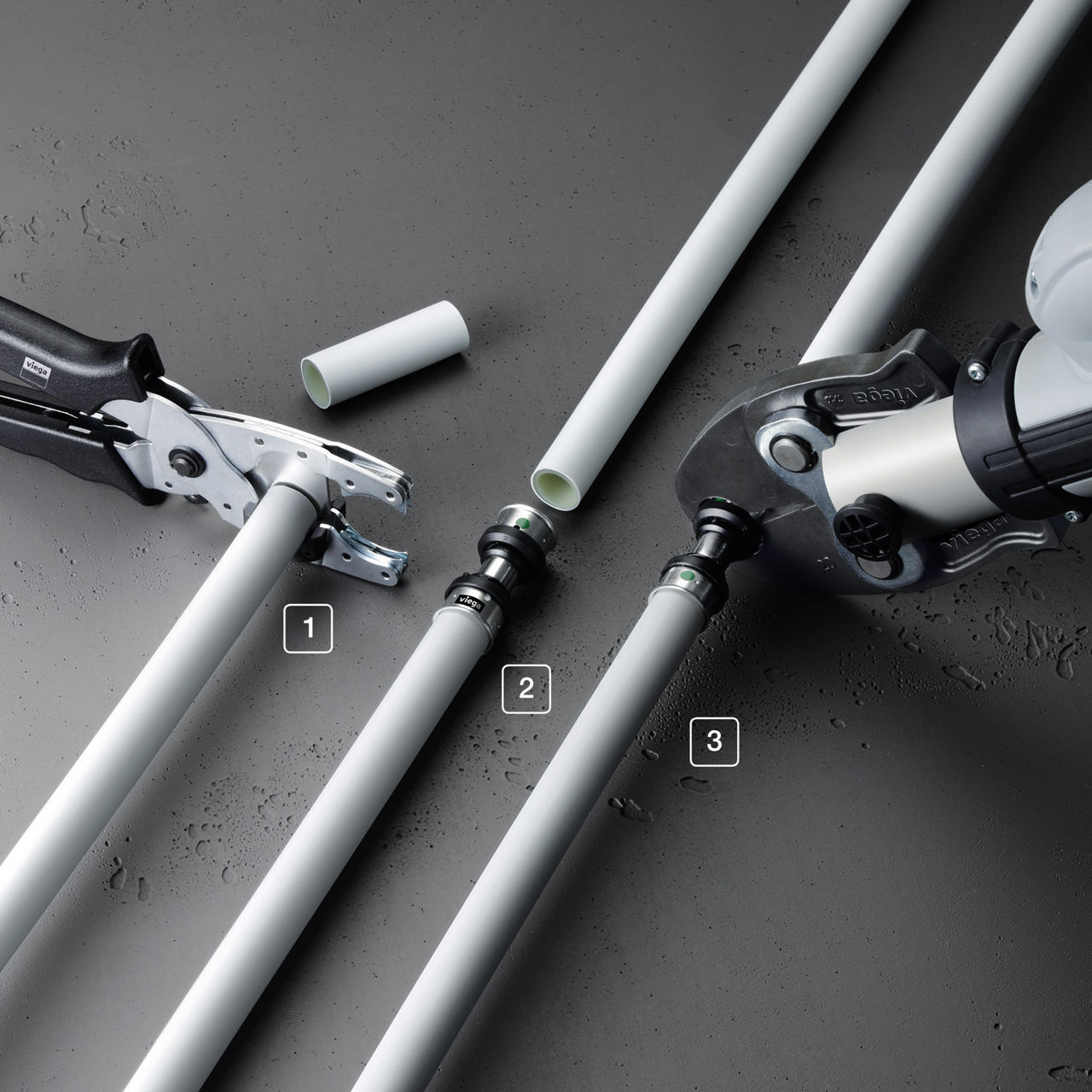 Viega Smartpress pipes: the perfect balance between stability and flexibility
The Viega Smartpress pipe excels with maximum dimensional stability while - at the same time - offering lots of flexibility. In smaller dimensions up to 32 mm, it can be easily bent by hand and matched perfectly to the individual installation conditions. Viega Smartpress pipes are also available in dimensions of 16 to 63 mm.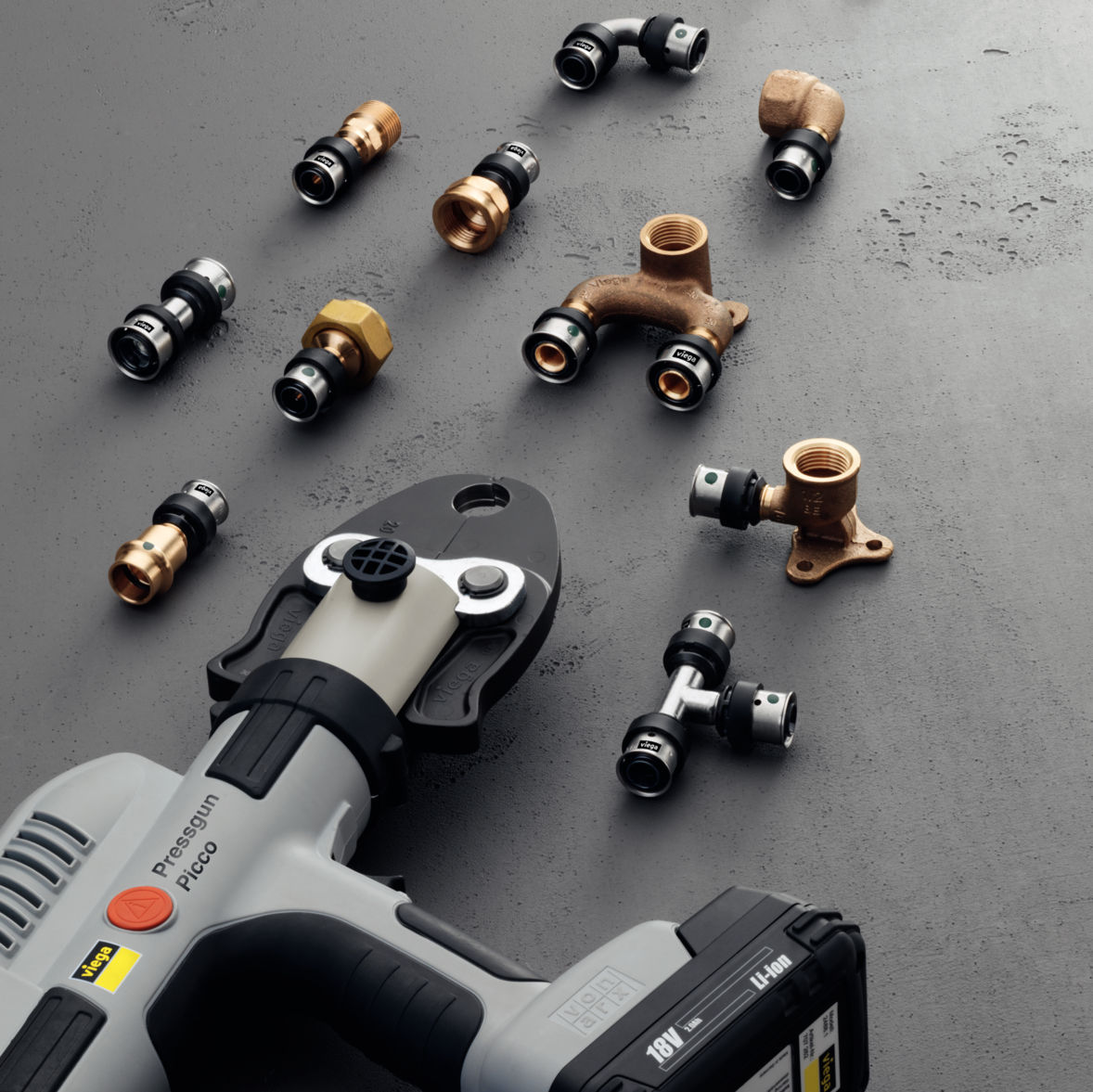 The installation advantages
Greater water flow rate for the same diameter, compared to most  multilayer systems on the market.
Flow Optimised connectors – smaller pipe diameters and reduction of internal stagnation zones.
Self-calibrating fittings – fast installation in just three steps (cutting, inserting and pressing) – time savings of up to 30%.
Improved installation flexibility with reduced number of elbows needed
Connectors equipped with DVGW-certified safety device SC-Contur – immediate display of accidentally unpressed connectors.
Connectors made of high quality stainless steel and gunmetal or silicon bronze materials.
Possibility of laying in series or in a ring thanks to the offset tees and double elbows, to facilitate the circulation of the water, thus limiting stagnation.
Large assortment of connectors in sizes from 16 to 63 mm.
A revolution in multilayer systems
Viega Smartpress is a real innovation for plumbing and heating systems: a system with pipes in quality polymeric material, optimized to minimize pressure drops, made with extremely durable materials over time, such as stainless steel and bronze; furthermore, all fittings are completely o-ring free. Thanks to these materials, the design and production methods of Viega, high pressure losses can be avoided and finally incorrect, over- or under-dimensioning and pipe sizing are a thing of the past. Viega Smartpress therefore offers not only the highest quality, but at the same time combines the advantages of a metal pipe system with those of a multi-layer system – for the best possible hydraulic characteristics and fast, safe and convenient installation.